Microlife WatchBP O3 AFib Ambulatory (BP 3MZ1-1A)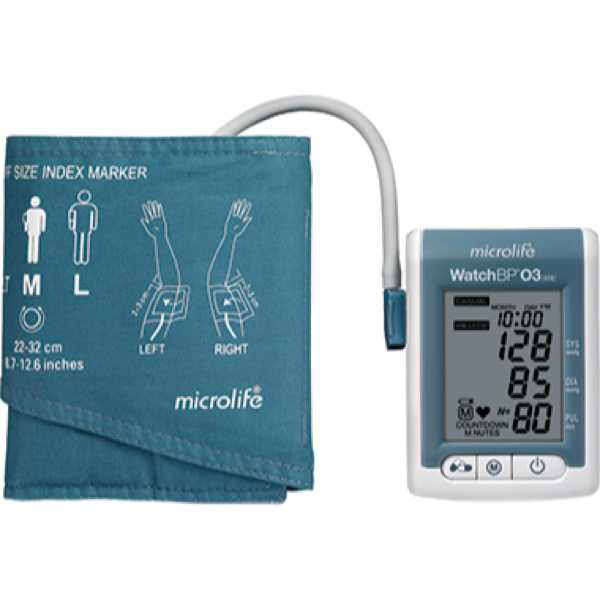 Device Name:
WatchBP O3 AFib Ambulatory
Device Model:
BP 3MZ1-1A
Manufacturer:
Microlife Corporation
, 9F - 431 RuiGuang Road, NeiHu, Taipei 11492, TAIWAN ROC.
Measuring functions:
Blood pressure, Atrial fibrillation
Primary Client Use:
Intended for both ABPM and professional use with atrial fibrillation detection
Measurement Site:
Upper Arm
Measurement Occurrence:
Single, repeated and intermittent measurements
Availability:
Available Currently
Availability according to Countries or Regions:
Switzerland, Colombia, Spain, France, United Kingdom, Greece, Croatia, Ireland, Italy, Lithuania, Latvia, Netherlands, Portugal, Saudi Arabia, Ukraine and South America
Device Manual:
Description:
The Microlife WatchBP O3 AFib Ambulatory (BP 3MZ1-1A) is an ambulatory blood pressure monitor. The accuracy of its blood pressure measurement technology has yet to be proven to MDR requirements. Blood pressure measurements are taken from the upper arm. With atrial fibrillation detection, it is intended for both ABPM and single measurement professional use.
Assessment:
The technology used in the Microlife WatchBP O3 AFib Ambulatory (BP 3MZ1-1A), to measure blood pressure, has been compared to a clinically validated device, but the results of the equivalence study have not been published and cannot be verified; nor can the protocol be checked for compliance with (EU) 2017/745 and MEDDEV 2.7/1 rev 4.
Recommendations:
| | | | |
| --- | --- | --- | --- |
| | Accuracy Assessment | Recommendation | Basis |
| BP | Medaval | None | Although equivalence to another device is claimed, this has not been tested to MDR requirements. |
| BP | Stride BP | ABPM for adults (Preferred) | Equivalence claim without published evidence |
Device Family:
Relevant Publications:
Huppertz N, Lip GYH, Lane DA. Validation of the modified Microlife blood pressure monitor in patients with paroxysmal atrial fibrillation. Clin Res Cardiol. 2020 Jul;109(7):802-809. Epub: 2019 Nov 7. doi: 10.1007/s00392-019-01567-y. PMID: 31701215.
AFib validation
Validation Publications for Equivalent Devices:
Note: This is a provisional list, as equivalence according to EU Regulation 2017/745 (e.g. MEDDEV 2.7/1 rev 4) is not proven. Accordingly, these publications are not used in the assessment of star-ratings.
Microlife WatchBP O3 (BP 3MZ1-1)
Ragazzo F, Saladini F, Palatini P. Validation of the Microlife WatchBP O3 device for clinic, home, and ambulatory blood pressure measurement, according to the International Protocol. Blood Press Monit. 2010 Feb;15(1):59-62. doi: 10.1097/MBP.0b013e32833531ca. PMID: 20075717.
ESH-IP:2002 - Pass General population
Stergiou GS, Tzamouranis D, Nasothimiou EG, Karpettas N, Protogerou A. Are there really differences between home and daytime ambulatory blood pressure? Comparison using a novel dual-mode ambulatory and home monitor. J Hum Hypertens. 2010 Mar;24(3):207-12. Epub: 2009 Jul 16. doi: 10.1038/jhh.2009.60. PMID: 19609285.
ESH-IP:2002 - Pass General population
Azaki A, Diab R, Harb A, Asmar R, Chahine MN. Questionable accuracy of home blood pressure measurements in the obese population - Validation of the Microlife WatchBP O3® and Omron RS6® devices according to the European Society of Hypertension-International Protocol. Vasc Health Risk Manag. 2017;13:61-9. Epub: 2017 Feb 27. doi: 10.2147/VHRM.S126285. PMID: 28280348. Available from: PMC5338962. eCollection 2017.
ESH-IP:2010 - Fail Obese subjects, BMI ≥30 kg/m²
Microlife WatchBP O3 Ambulatory (2G) (BP 3SZ1-1)
Fania C, Lazzaretto I, Fontana U, Palatini P. Accuracy of the WatchBP O3 device for ambulatory blood pressure monitoring according to the new criteria of the ISO81060-2 2018 protocol. Blood Press Monit. 2020 Oct;25(5):285-290. Epub: 2020 Jun 23. doi: 10.1097/MBP.0000000000000459. PMID: 32898350.
81060-2:2019 - Pass General population