Omron HEM-7320 (HEM-7320-AP)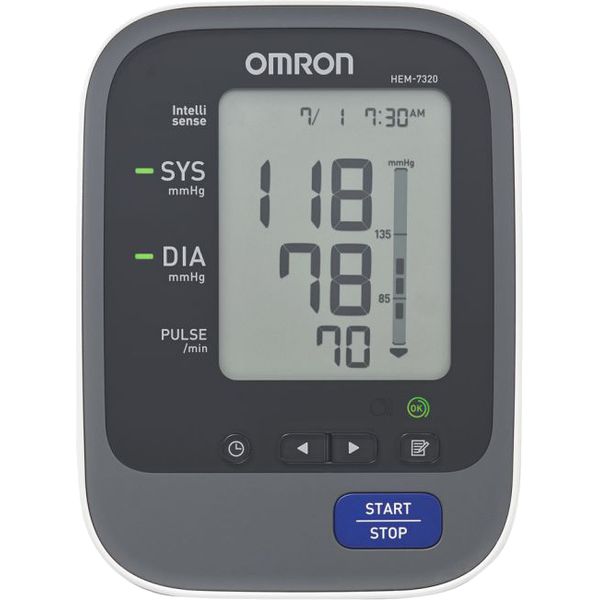 Device Name:
HEM-7320
Device Model:
HEM-7320-AP
Manufacturer:
Omron Corporation
, Kyoto Head Office, Shiokoji Horikawa, Shimogyo ku, Kyoto 600-8530, JAPAN.
Measuring functions:
Blood pressure
Primary Client Use:
Intended for self-measurement and home use
Measurement Site:
Upper Arm
Measurement Occurrence:
Single measurements only
Availability:
Available Currently
Device Manual:
Description:
The Omron HEM-7320 (HEM-7320-AP) is an automatic blood pressure monitor. Its blood pressure measurement technology has been proven to be accurate. Blood pressure measurements are taken from the upper arm. It is intended for self-measurement and home use.
Assessment:
While the technology used in the Omron HEM-7320 (HEM-7320-AP), to measure blood pressure, has been declared, on the manufacturer website, as being equivalent to that used in a clinically validated device, no evidence has been published to show that the devices have been compared according to a protocol compliant with (EU) 2017/745 and MEDDEV 2.7/1 rev 4.
Recommendations:
| | | | |
| --- | --- | --- | --- |
| | Accuracy Assessment | Recommendation | Basis |
| BP | Medaval | None | Although equivalence to another device is claimed, this has not been tested to MDR requirements. |
Device Family:
Omron HEM-7320F
Y
,
Omron HEM-7320 (HEM-7320-AP)
Y
Legend:
Y
Internal declaration
Validation Publications for Equivalent Devices:
Note: This is a provisional list, as equivalence according to EU Regulation 2017/745 (e.g. MEDDEV 2.7/1 rev 4) is not proven. Accordingly, these publications are not used in the assessment of star-ratings.
Omron HEM-7320F
Takahashi H, Yoshika M, Yokoi T. Validation of three automatic devices for the self-measurement of blood pressure according to the European Society of Hypertension International Protocol revision 2010: the Omron HEM-7130, HEM-7320F, and HEM-7500F. Blood Press Monit. 2015 Apr;20(2):92-7. doi: 10.1097/MBP.0000000000000096. PMID: 25462531.
ESH-IP:2010 - Pass General population