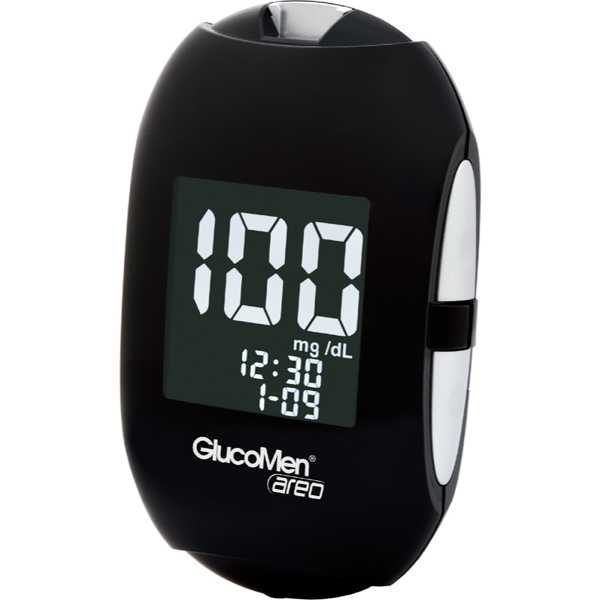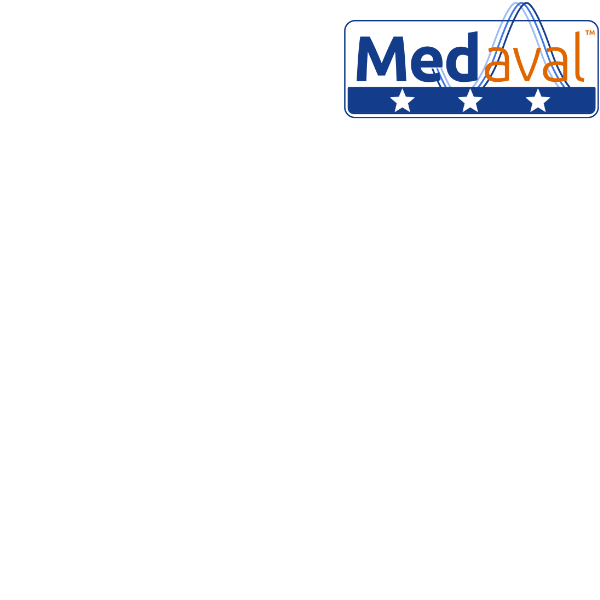 Device Name:
GlucoMen Areo
Manufacturer:
A. Menarini Diagnostics S.r.l.
, Via Sette Santi 3, 50131 Firenze, ITALY.
Measuring functions:
Blood glucose
Primary Client Use:
Intended for both professional use and self-measurement
Measurement Site:
Finger and general Alternative Site Testing
Measurement Occurrence:
Single measurements only
Availability:
Available Currently
Device Manual:
Description:
The Menarini GlucoMen Areo is an automatic blood glucose meter. Its blood glucose measurement technology has been proven to be accurate, with a 3-star Medaval rating. Blood glucose measurements are normally taken from the finger but alternative site testing is allowed. It is intended for both professional use and self-measurement.
Assessment:
The technology used in the Menarini GlucoMen Areo, to measure blood glucose, is among the best rated for accuracy by Medaval Ltd.
It has passed in three clinical validation studies, between general and specific populations, according to recognised standard protocols, as published in peer-reviewed publications.
Recommendations:
Accuracy Assessment
Recommendation
Basis
BG
Medaval

★★★

Recommendation
Recent clinical validation; recent protocol; multiple clinical validations
BG
TÜV Rheinland Nederland
General use
Unpublished internal data
BG
TÜV SÜD (DE)
General use
Unpublished internal data
BG
MDR Criteria
Self-measurement and professional use
Published evidence
Validation Publications:
Blood Glucose Meters Accuracy Requirements -- International Standard ISO 15197:2013 (Second Edition 15/05/2013) -- In vitro diagnostic test systems - Requirements for blood-glucose monitoring systems for self-testing in managing diabetes mellitus. 2013 May 15. Available from: www.glucomen.co.uk.
15197:2013 General population
Internal validation.
Berti F, Scuffi C, Valgimigli F. Accuracy Evaluation of Two Blood Glucose Monitoring Systems Following ISO 15197:2013. J Diabetes Sci Technol. 2015 Nov;9(6):1354-6. Epub: 2015 Jul 29. doi: 10.1177/1932296815595986. PMID: 26224761. No abstract available.
15197:2013 - Pass General population
Jendrike N, Baumstark A, Pleus S, Liebing C, Kamecke U, Haug C, Freckmann G. Accuracy of five systems for self-monitoring of blood glucose in the hands of adult lay-users and professionals applying ISO 15197:2013 accuracy criteria and potential insulin dosing errors. Curr Med Res Opin. 2019 Feb;35(2):301-311. Epub: 2018 Jul 19. doi: 10.1080/03007995.2018.1491832. PMID: 29927663.
15197:2013 - Pass General population
Tentolouris A, Eleftheriadou I, Grigoropoulou P, Nikoloudi M, Siami E, Tsilimigras DI, Tentolouris N. Accuracy and Usability Evaluation of Six Commercially Available Blood Glucose Monitoring Systems Journal of Clinical and Diagnostic Research. 2018 Jun;12(6):OC10-OC14. doi: 10.7860/JCDR/2018/34055.11671. Available from: www.jcdr.net.
Ad Hoc protocol General population (Note: Tested in criteria resembling ISO 15197:2013.)
Pleus S, Baumstark A, Jendrike N, Mende J, Link M, Zschornack E, Haug C, Freckmann G. System accuracy evaluation of 18 CE-marked current-generation blood glucose monitoring systems based on EN ISO 15197:2015. BMJ Open Diabetes Res Care. 2020 Jan;8(1):e001067. doi: 10.1136/bmjdrc-2019-001067. PMID: 31958308. Available from: drc.bmj.com.
15197:2013 - Pass General population (Note: Modified protocol: One reagent system lot.)