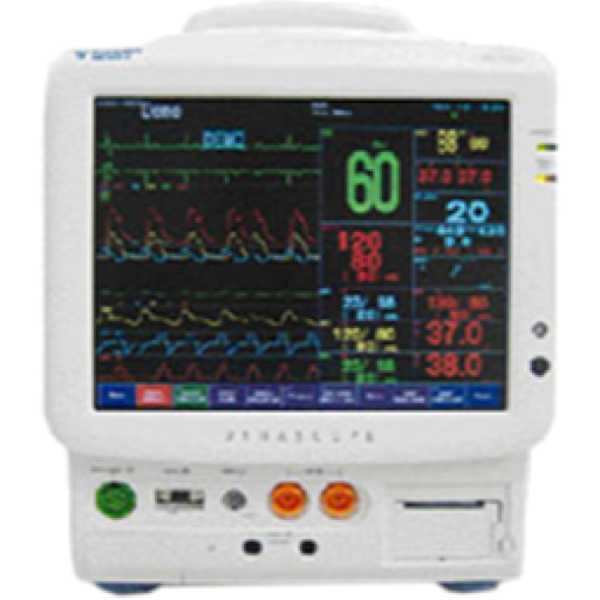 Device Name:
Dynascope
Device Model:
DS-7200
Manufacturer:
Fukuda Denshi Co. Ltd.
, 2-23-5 Kita Ueno, Taito-Ku, Tokyo 110-0014, JAPAN.
Measuring functions:
Blood pressure, Arrhythmias, SpO2, Temperature, ECG, Respiration
Primary Client Use:
Intended for patient monitoring
Measurement Site:
BP: Upper Arm; SpO2: Finger
Measurement Occurrence:
BP & SpO2: Intermittent measurements at specified intervals or times
Availability:
Available Currently
Availability according to Countries or Regions:
Japan
Description:
The Fukuda Denshi DS-7200 is a patient monitor. The accuracy of its blood pressure measurement technology has yet to be proven to MDR requirements and information regarding the accuracy of its oxygen saturation measurement technology does not appear to be available. Blood pressure measurements are taken from the upper arm and oxygen saturation measurements are taken from the finger. It is intended for bedside patient monitoring.
Assessment:
The technology used in the Fukuda Denshi DS-7200, to measure blood pressure, has been compared to a clinically validated device, but the results of the equivalence study have not been published and cannot be verified; nor can the protocol be checked for compliance with (EU) 2017/745 and MEDDEV 2.7/1 rev 4. There appears to be no peer-reviewed clinical validation information available on the technology used in the Fukuda Denshi DS-7200 to measure peripheral oxygen saturation.
Recommendations:
| | | | |
| --- | --- | --- | --- |
| | Accuracy Assessment | Recommendation | Basis |
| BP | Medaval | None | Although equivalence to another device is claimed, this has not been tested to MDR requirements. |
| BP | Japanese Society of Hypertension | Professional use (2016, 2018-2021) | Implied equivalence to the Fukuda Denshi DS-7000 |
Device Family:
Validation Publications for Equivalent Devices:
Note: This is a provisional list, as equivalence according to EU Regulation 2017/745 (e.g. MEDDEV 2.7/1 rev 4) is not proven. Accordingly, these publications are not used in the assessment of star-ratings.
Fukuda Denshi DS-7000
Alpert BS, Blakely DW. Validation of the Fukuda Denshi DS-7000 patient monitor by AAMI standard testing. Blood Press Monit. 2009 Dec;14(6):274-6. doi: 10.1097/MBP.0b013e328332fd6d. PMID: 19923985.
BHS:1993 - Pass (A/A) In normal mode
BHS:1993 - Pass (A/A) In quick mode
SP10:2002 - Pass Adults and chlidren - In normal mode
SP10:2002 - Pass Adults and chlidren - In quick mode
SP10:2002 - Pass Infants (n=15), Neonates (n=18)